Mactawbay Show Results

2023 RESULTS

Wow what a result at Richmond Championship Show today
Mactawbay infinite Edition aka Ron only went and won the Dog CC from Junior at the tender age of 13 months on the day
Thank you to the Judge Bert Easdon for a unforgettable day and his fabulous comments on him
Mactawbay Ultimate Edition winning his Graduate dog class



Paignton CH Show
Judge Maria Harding
Mactawbay Ultimate Edition 1st Puppy Dog, Best Puppy Dog & Best Puppy in Breed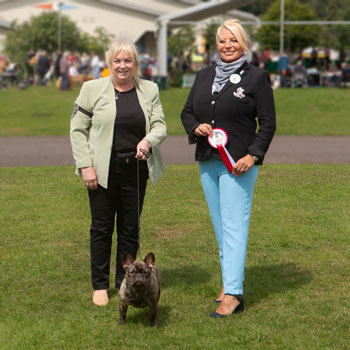 East of England
Judge Betty Peach
Mactawbay Ultimate Edition wins Puppy Dog
Mactawbay Infinite Edition second in Puppy Dog

Windsor CH Show
Judge Liz Cartledge
Mactawbay Infinite Edition wins Puppy Dog & Best Puppy Dog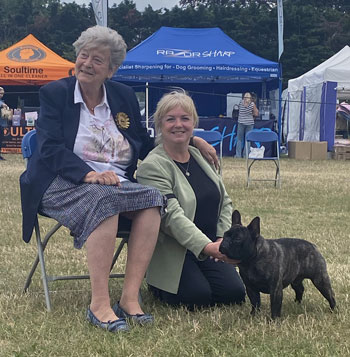 Mactawbay Ultimate Edition third in Puppy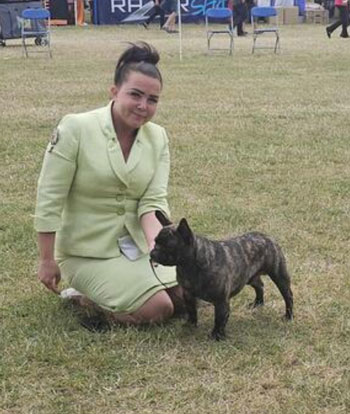 Three Counties CH Show
Judge Mark Cocozza
Mactawbay Ultimate Edition 2nd Puppy Dog
Mactawbay Infinite Edition 3rd Puppy Dog

Birmingham National
Ron did us proud today winning 1st Minor Puppy Dog then Best Puppy Dog
Judge Mr Dimitry Van Raamsdonk from the world famous De La Parure Kennel
Expertly handled by Jeanette Oakes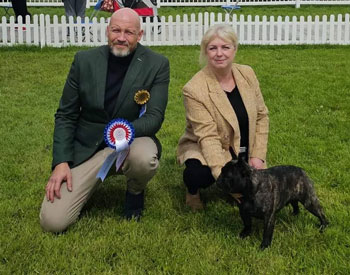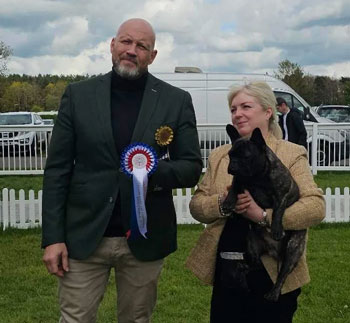 Frabull's Obsidian for Mactawbay
3rd Junior

Mactawbay Ultimate Edition 3rd Minor Puppy Dog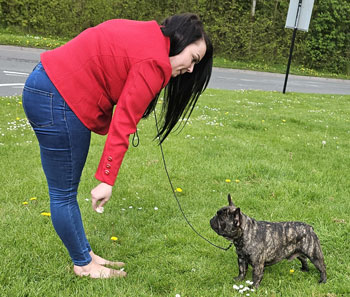 WELKS
Mactawbay Special Delivery
Judge Stuart Mallard
3rd Limit Bitch Stud Book Number CRUFTS qualified for life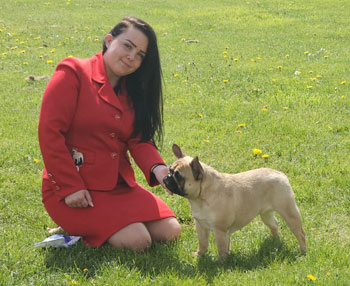 Frabull's Obsidian For Mactawbay
3rd Junior Crufts qualified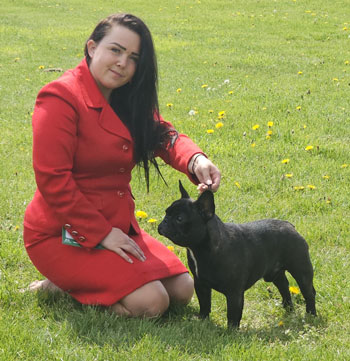 Mactawbay Ultimate Edition
4th Minor Puppy Dog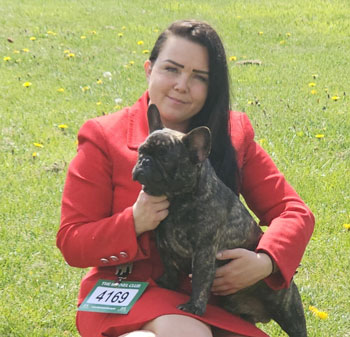 Mactawbay Infinite Edition
2nd Puppy Dog Crufts qualified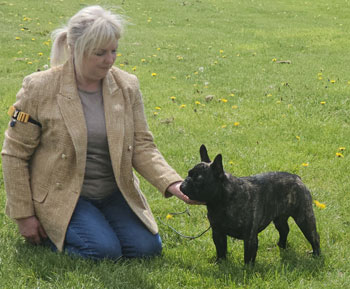 2022 RESULTS

French bulldog club of England champ show
13/11/2022
Crufts qualified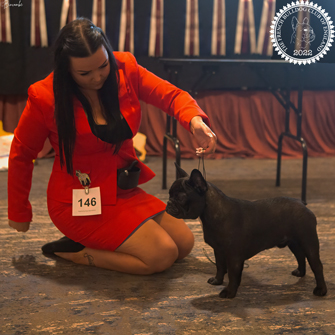 2021 RESULTS

Mactawbay Special Edition (Ethel)
After 18 months out the ring, following her highly successful puppy career she returned to the ring winning a strong Post Graduate Bitch class at East Of England Championship Show, with handler Jeannette Oakes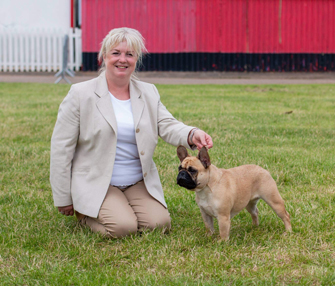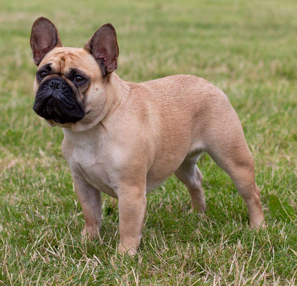 At the same show Mactawbay First Edition 3rd Limit Bitch

Elsie got a lovely 2nd in Limit Bitch at Southern Counties CH Show
Crufts Qualified 2022
Mactawbay First Edition with her handler - Jeanette Oakes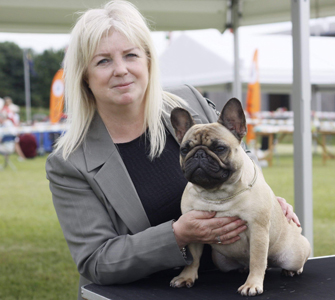 Elsie first critique from SCC - thank you Ian Chapman
Mactawbay First Edition, Mrs Watkin-McGowan - Fawn: Such a sweetheart. Shorter in body than my winner, but still beautifully balanced. Lovely square head and expression, nice dark eye and broad muzzle. Straight front and strong pasterns. Good depth of brisket and well sprung ribs. Nice topline/tail set and pleasing tuck up. Great angulation which she was ready to use when asked to move. Appeared to be in a hurry, but once she settled, she was a pleasure to watch.


2020 RESULTS

Manchester Dog Show Society
16th January 2020
Mactawbay First Edition, fawn girl who also scores for type. She is compact and sturdy and pleases for head. Moves well in profile to take the eye
Lee A S Cox (Judge)

2019 RESULTS

Midland Counties Championship Show
27th October 2019
Judge: Mr Habig
Mactawbay Limited Edition 2nd Puppy dog (14 entries)
Mactawbay Special Edition 2nd Puppy Bitch (10 entries)

Judges critique: Mactawbay Limited Edition. Very nice fawn, quality puppy, full of presence & class, should make his way, promising head, dark eye, good ears, sound shoulder, just a big broad in front action at this moment.
Mactawbay Special Edition. Fawn. So well put together, short, cobby, dry, fit & firm for her age, just feet should already be a touch firmer, correct head, nice expression, good drive from behind

East Kent Canine Society
Judge: Tony McQuilken
Mactawbay Limited Edition wins Puppy, BOB and BPIB
Also Utility Puppy Group 2
Judges critique: My thanks to the officers and committee for inviting me to judge at this well organised and friendly show. Thanks also to my helpful stewards
Presented in top condition. This young fawn male looked fabulous on the stand and kept his shape on the move. He's small, balanced and solid. A lovely headpiece with, clear eyes, open nostrils, correct bite, good jaw and lips. Lovely wrinkling. Strong neck, correct forequarters, well rounded ribs, correct topline and tuck up, enough bone and well-muscled. A delight to watch on the move, covered the ring well .BP & BOB, PG2. 2

South Wales Kennel Association CH Show
Judge: Chris Thomas
Mactawbay Special Edition wins Puppy (10 entries)

Portsmouth and Southsea Kennel Association
What a Day!
Mactawbay Special Edition wins Junior and RBOB
Judges Critique: Mactawbay Special Edition. Fawn 10 months, good head and nice dark eye, good body, nice front, small compact feet, moved well just lost out to his litter mate. Reserve Best of Breed.
The star of the day Mactawbay Limited Edition, wins his Post Graduate class, Best Puppy and Best of Breed
He then went on to not only win Adult Utility Group 2 but also the Utility Puppy Group and amazed us even further by going
BEST PUPPY IN SHOW
under esteemed all rounder Judge Mrs Christina Chapman
We are absolutely over the moon and so so proud of our little boy
Thank you so much to Amber Corcoran for handling him so well for us, Breed judge Mr S Goodwin and Group Judge Mrs Miles for thinking so highly of our boy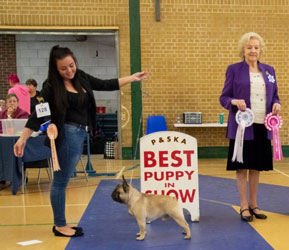 Judges Critique: Mactawbay Limited Edition. Fawn, excellent head, dark eyes, short deep body, good cut-up and slight rise of loin, well boned straight front, cobby body, moved very soundly. Best Puppy In Breed, Best Of Breed, Utility Group 2, Best Utility Puppy under judge Mrs A Barnsby & Best Puppy In Show under judge Mrs C. Chapman
Group Judges Critique: 2 Mactawbay Limited Edition. French Bulldog. Small, solid and balanced. Head not exaggerated. Skull flat between fine bat ears set wide apart. Forehead slightly domed. Well defined stop between relatively widely spaced round eyes that are not prominent. Muzzle broad, deep and somewhat set back. Cheeks and upper lips well cushioned and covering lower lip. Jaws broad and slightly undershot. Neck thick and well arched and long enough to prevent him looking at all stuffy. Short straight boned forelegs set wide apart with rounded ribs and wide brisket let down between. Muscular back, broad at the shoulders narrower at the loin, with gently roached topline and good tuck up beneath. Tail set low. Hind legs slightly longer than fore. Hocks well let down. Pasterns strong. Moved very freely.
BPIS Judges Critique: Best Puppy really took my eye and was the French Bulldog Watkins-McGowans Mactawbay Limited Edition fawn with good square head, defined muzzle good open nostrils, lovely bat ears and round dark eye. Good shape, strong straight, topline & short coupled.  Nice chest. Well ribbed.  Movement was brisk and accurate with lovely moderate stride. BPIS.
Thank you Christine Chapman
Midland & Northern Counties French Bulldog Club Championship Show
29th September 2019
Judge: Mrs C E Cartledge (Ryslip)
Mactawbay Special Edition second Puppy Bitch
Mactawbay Limited Edition second Puppy dog

Richmond CH Show
8th September 2019
Judge: Mrs S Champers
Mactawbay Limited Edition wins Minor Puppy Dog (9 entries)
His critique: Promising class MPD 1 Watkins-Mcgowan Mactawbay Limited Edition. Really liked this quality and quite mature almost 9 mth fawn/bm he has a lovely square head  developing well with nearly flat skull between his well set on and shaped ears carried upright and parallel, round dark eyes and nose placed well, width and depth to his well defined muzzle, good mouth with depth and width to his under jaw giving him a nice upturn, width to his front with good straight bone tidy feet and dark nails, he has a nice topline going down into the desired low set short tail, deep brisket, good ribs and shows a shapely underline, strong nicely angulated rear quarters, he is a lovely mover, free, straight and parallel for one so young and holds in profile he showed and was handled really well
and
Mactawbay Special Edition wins Minor Puppy Bitch (8 entries)
Her critique: 1 Watkins-Mcgowan Mactawbay Special Edition fawn/bm Almost 9mth I noticed she is litter sister to MPD winner much of the same applies here to her, good square head with nicely set on ears dark round eyes, open nostrils and her deep, wide muzzle is well defined, with width to her under jaw and good upturn all gives her a nice expression, she has moderate length of neck into well laid shoulders wide straight front topline is good with a gentle rise over her loins and down into a low set tail deep brisket and good ribs and shows good tuck up to her underline, strong and nice angulation to her rear, moves out really well freely in all directions just hope she doesn't grown on much more, showed and handled well.

City of Birmingham CH Show
Mactawbay Special Edition 1st Minor Puppy Bitch
Ethel has also qualified for The Supreme Trophy Award Gala 2019 LESMOIR GORDON TROPHY from only 6 CH Shows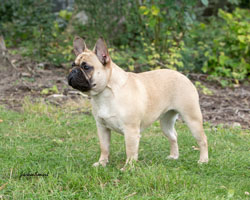 Mactawbay Limited Edition
1st Minor Puppy Dog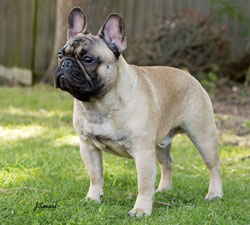 Bournemouth Canine Association Championship Show
11th August 2019
Judge: Rodney Oldham
Mactawbay Limited Edition
2nd MPD (10 entries)
His critique: 2nd Watkins-McGowan, Mactawbay Limited Edition, f/bm of 8mo, compact and soundly put together, square head and super ears, head well laid out, good forechest and straight limbs, hindquarters to balance, good mover.
Mactawbay Special Edition
1st MPB (7 entries)
Ethel then went on to win Best Puppy Bitch and Best Puppy in Breed!!
Then got down to the last 8 in the utility puppy group
Absolutely over the moon
Her Critique: MPB(7,2) 1st Watkins-McGowan, Mactawbay Special Edition, very strongly built f/bm, square head very well laid out, super eye and ears, best of fronts and feet, well ribbed up and carried back, gentle roach to topline, powerful hindquarters, and an excellent mover, BP.

Paignton Championship Show
6th August 2019
Mactawbay Special Edition
Judge: Stuart Mallard
1st MPB (7 entries)

Southampton Canine Show
21st July 2019
Judge: Philippa Gilbert
Mactawbay Special Edition
1st Puppy
Ethel also went into the Puppy Stakes class and got a 2nd from an entry of 27 puppies
Judges Critique: Well built cobby fawn bitch with a big character. Square head with enough definition of dark muzzle. Good stop, round eyes with correct placement. Really uses her ears well giving a great expression. Powerful neck in to good front, well ribbed body with nice tuck up. Muscular rear quarters enabling her to moved well when settled and close decision for BP.

Southampton & District Canine Association
21st July 2019
Judge: Philippa Gilbert
Mactawbay Limited Edition
2nd Junior (7 entries)
Best Puppy in Breed
Puppy Group 2
Judges Critique: Solid, sturdy and compact, exactly what I would look for in a puppy who's well grown for his age. Super square head with well placed ears which he uses to his advantage. Deep, broad lower jaw nicely flanked by well cushioned lips.  Strong, muscular body narrowing behind the ribs, with excellent cut up and strong loin. Sound rear end with short tail. Moved out, covering the ground with easy free movement. Brother of puppy class winner and it shows. 2 very promising puppies but today the boy took BPIB and Puppy Group 2

Windsor Championship Show
30th June 2019
Mactawbay Special Edition
Judge: Tim Ball
2nd Minor Puppy Bitch (10 entries)

2017 RESULTS


After year out the Mavis come back with a bang!!
1st Limit Bitch and the Bitch CC at Richmond CH Show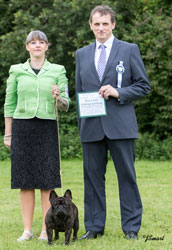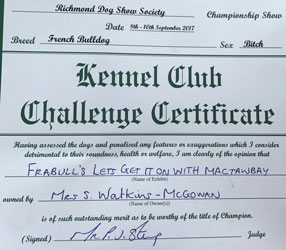 Winning the CC at Richmond CH Show 2017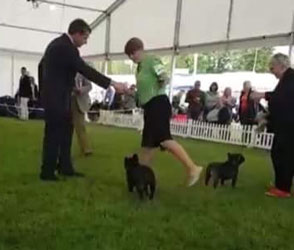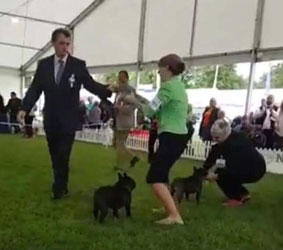 2015 RESULTS

Bournemouth Championship Show
Mactawbay Ready To Fly (Maverick) 1st Puppy Dog followed by Best Puppy Dog
Frabull's Lets Get It On With Mactawbay (Mavis) 1st Puppy Bitch
Mactawbay All Eyes on Me for DevotoBlaze (Blossom) 3rd Puppy Bitch - Crufts Qualified

Kingston Canine Society
Mactawbay All Eyes on Me for DevotoBlaze (Blossom)
At her first ever show, 6 months on the day, Best Puppy in Breed and Utility Puppy Group Winner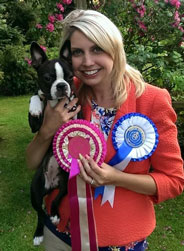 Match Night
Maverick won Best Puppy in Match then went on to win Best in Match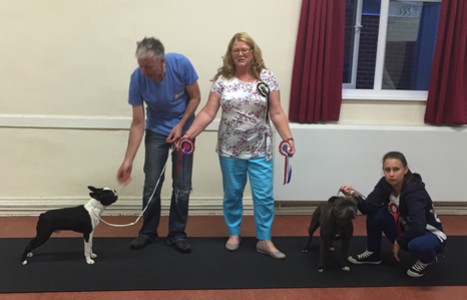 Leeds Championship Show

Frabull's Lets Get It On with Mactawbay (Mavis) 1st Minor Puppy Bitch & Best Bitch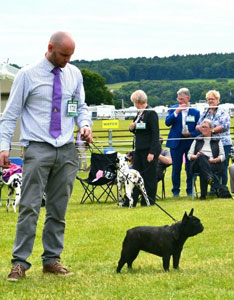 'Mavis' in the line-up at Leeds CH Show

Mactawbay Ready To Fly (Maverick) 3rd Minor Puppy Dog Crufts Qualified
Mactawbay Man In A Million (Stanley) 2nd Post Graduate Dog

Pennine & Scottish French Bulldog Association Open Show
Frabull's Lets Get It On with Mactawbay (Mavis) First - Puppy Bitch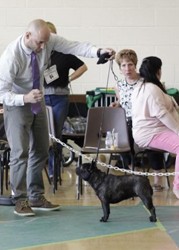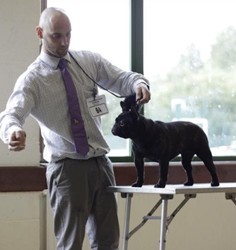 Mavis in her class

Southern Counties CH Show
Frabull's Lets Get It On with Mactawbay (Mavis) Second - Puppy Bitch
Qualifying her for Crufts 2016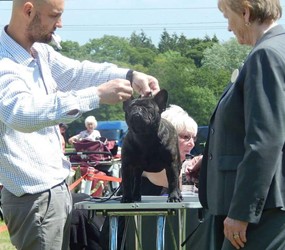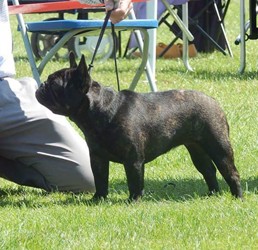 Mavis in the ring at Southern Counties

2014 RESULTS

LKA CH Show
Mactawbay Man In A Million Third - Post Graduate Dog
At his first Championship show he qualified for Crufts 2015

Boston Terrier Club Breed Show
Mactawbay Man In A Million Second - Maiden Dog
Mactawbay Miss Million Second - Minor Puppy Bitch (Six months old on the day)

Nybro Brukshundklubb Show
Mactawbay Miss Dior First - Puppy and Best Puppy in Breed
Class: Puppy 6-9 mths Prize: 1
Judges Critique: 6-monts bitch-puppy, Excellent type, Beautiful feminine head, Round Eyes, Beautiful neck and top-line
Lovely front, Good angulation, Very good chest, Good angulation back
Moving well from all sides, the few right steps she takes, Very well handled, Very nice puppy.
BOB-puppy